Microdentistry
---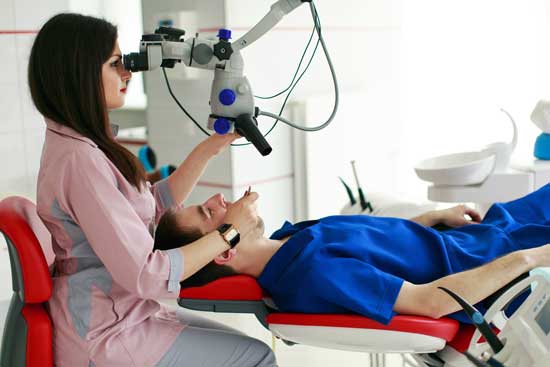 Microscopic vision : Learn more to earn more.
Microscopes have become a mandatory tool in dentistry worldwide. And the results are visible. Details otherwise missed now become vivid, spots and blemishes become clear. And your very diagnosis becomes more insightful based on information available to your own eyes.
Advanced Micro Dentistry courses
These courses are especially designed for dentists, who would like to incorporate advanced techniques and technologies into their private dental practices. The program is a mixture of lectures, live demonstrations and hands-on practical exercises on extracted teeth in mannequins and specially designed models. A team approach utilizing a chair side assistant will be emphasised, including training in four-handed dentistry specific to a microscope enhanced dental practice.
The Microscope in Everyday Dentistry (2 days)
This course will emphasize your use of the microscope in every day clinical situations. This course is intended as an introduction to the microscope for dentists with no or limited experience in microscopic dentistry.
Topics
The microscope: what features to look for
Adjusting and par focaling the microscope
Dentist, assistant and patient positioning for optimum results and improved posture - Ergonomics
Micro-instruments
Minimally Invasive dentistry concepts and techniques
Pit and fissure restorations
MicroEndodontics – from access cavities, canal location and instrumentation, to 3D thermoplasticized obturations
Minimally invasive tooth preparation and restoration
Documentation and record keeping
Advanced Microendodontics training (2 days)
Ultrasonics and Microscopes - The perfect partners in Endodontics
Management of calcified pulp space
Post removal exercises
Retrieval of fractured instruments
Perforation management
Post space preparation and placement of FRC posts
Retreatment
Apexification
Vital pulp therapy
Revascularization
Documentation and patient education
Endodontic Microsurgery – Keyhole surgery (1 day)
This course will be devoted to all aspects of microsurgical endodontics.
Patient, dentist and assistant positioning for optimum effectiveness and comfort in the surgical environment
Effective utilization of the chair side assistants
Diagnosis and case selection
Anesthesia and pain control
Flap design
Management of hard and soft tissues
Microsurgical instrument selection and usage
Apicoectomy
Ultrasonic root-end preparations
Advanced microsurgery concepts: molar surgery without fear
Root end filling materials and techniques
Effective hemostatic techniques
Guided bone regeneration techniques
Suturing materials and techniques
Documentation of surgical procedures
Group Training:
Special training can be arranged for colleges, teaching institutes, Post graduates and private dental practitioners groups on request at concessional rates.
Customized training:
The above courses can also be customised to suit the individual needs of the participant. For further details, contact the AAD centre.
Hands-On Training
In a state-of-the-art continuing education facility with individual floor mounted master microscopes and hands-on guidance, participants will gain training in microdentistry.
Course Schedule:
The above courses are conducted on a regular basis once every 3 months. Kindly contact the AAD centre or visit www.dentalcourses.co.in for details
Highlights
All participants will be provided with state – of- the- art equipment, individual clinical microscopes and personal attention will be given to each and every participant to ensure a meaningful learning experience, Online mentoring after the completion of course.
Accommodation:
In house accommodation available on a first come first serve basis, Hotel booking available on request.