Facilities
---
AAD is one of its kind continuing education centres in India to incorporate four surgical operating microscopes in clinical teaching and practice. A fully equipped pre-clinical laboratory, state-of-the-art surgical suite, and clinical dental units offer Microscopes, Piezosonic units, warm vertical obturation units, apex locators, RVG, OPG, Endomotors, etc. AAD provides a complete package, which will enable the participants to acquire and enhance their dental knowledge and skills.
Advanced Technology and State-of-the-art equipments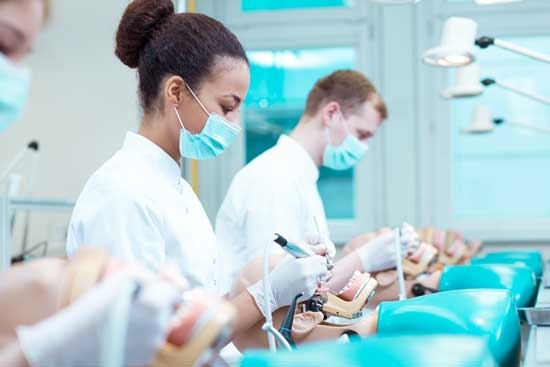 Academy of Advanced Dentistry uses the cutting edge technology to provide training to the doctors.
Microscope - We are one of the pioneers in India to have incorporated four Dental operating
microscopes(Labomed, USA) into clinical practice.
Dental Loupes -(Keeler, UK)
Digital X-rays - Orthopantamograph(OPG), Radiovisiography(RVG)(Satelac, France)
Intra oral camera - Satelec
3 Shape TRIOS Intraoral scanner (Denmark)
SAM 3 articulator(Germany)
Piezotome (Satelac - France)
Physio dispenser - Implant motor (W&H, UK)
Digital smile design software (Spain)
CAD CAM
Automated root canal endodontic motors -XSmart plus (Dentsply, USA)
Electronic apex locators- RootZX from( J Morita, Japan)
Thermoplasticized Obturation systems - Obtura III (Obtura Spartan Endodontics, USA)
System B (Kerr dental, California, USA)
Ultrasonic tips - Start X (Dentsply, USA), CAP (Satelac, France)
CPR ultrasonic tips (Obtura Spartan Endodontics, USA)
Kis ultrasonic tips (Obtura Spartan Endodontics, USA)
Lasers (Biolase, USA)
Teeth whitening unit (Acteon, France)
Implant Systems - Noble Biocare, DIO digital implants, Straumann
T-scans (USA)
J-5 tens (Myotronics, USA)
Ultrasound
Highlights:
Phantom head facilities
Air-conditioned lectures Rooms
Multimedia presentations
Focused scientific sessions to take your practice to the next level
Live demonstrations
Hands-on workshop
Clinical discussion
Newer concepts
Newer techniques & equipment
Use of RVG, OPG & intraoral camera
In- house library
Internet facilities
Vendor interaction
After course – online support
Supply of course materials / CD's
Wi-Fi facilities
Magnification devices
Microscopes
Loupes