Enhancing Dental Surgeries & Procedures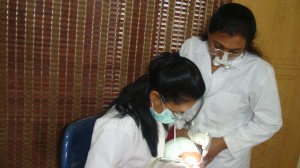 While infusing passion with perfection and precision, dental professionals use innumerable instruments and equipment for various dental problems to rectify, heal and restore patients' conditions. One of the most important and vital surgical instruments that is used while performing microsurgeries is the Magnification Loupes.

Supporting the ability to scrutinize the oral cavity, the Microscope displays a close view of cracks in the tooth while magnifying specified areas. Magnification is very important while a flap is being sutured. As the oral cavity is structured with crevices and narrow or minimal spaces offering less or no access, the microscope ensures sharp vision with magnification.

With dentists drilling teeth on a millimeter scale, the dental telescope enlarges or magnifies the view offering precision and inspection of the teeth for decay or other problems which cannot be seen otherwise without the support of the microscope. Also known as Magnification Loupes (pronounced as loops), this precision microscope plays a very important part in Periodontics and oral surgery.

Being binocular taking the place of glasses, Magnification Loupes besides helping dentists to acquire a detailed view also give them free use of their hands. According to customized needs, this microscope may be fitted with flip-type flaps or cylinders at the front end of the glasses. Other types may have an inset which can be found inside the lens of the glasses. Normally the magnification used in dentistry would be 2.5x, while dental loupes provide a range of 2x to 8x. The loupes may also be fitted with mounted lights, side shields which protect from splatter, cameras and video recorders.

Enhancing or magnifying the oral cavity or image, these dental telescopes provide quality, precision and can be custom made. Supporting overall visibility with adjustable light intensity, the Magnification Loupes offer comfort and freedom for the user. Uniquely shaped and optically aligned, the dental telescope renders less weight, increases and expands fields or peripheral vision and does not require external support.

Magnification Loupes offer dental professionals precision, clear cut surgery and quick diagnosis with sharp vision making procedures for patients less painful and providing comfort.